Is coffee a proper breakfast? Many people (including us) would agree – indeed, 40 per cent of South Australians would rather skip breakfast than their cuppa. However, coffee by itself does not have enough nutrients to give you energy in the morning and keep your appetite in check until lunchtime. Health experts recommend adding a morning menu that has a sufficient amount of protein, fibre and calories. Coffee smoothies can be a great option for those looking to have a nutritious, caffeine-packed breakfast without having to cook or spend time getting a bite. Here are some of our favourite coffee smoothie recipes for your mornings…
Peanut Butter Espresso Smoothie by The Almond Eater
Have your protein the fun way with this peanut butter- and almond milk-infused coffee!
Wake Me Up Coffee Smoothie by Live Eat Learn
With rolled oats, banana and milk, this smoothie has everything you need – caffeine (of course), fibres from whole grains and fruit, and calcium.
Chocolate Coffee Smoothie by The Happier Homemaker
A mocha fan? This will satisfy your cravings while keeping you awake and ready for the day.
Coconut, Maca and Coffee Smoothie by The Kitchen Mix
Take your morning drink to another level with great, natural ingredients such as shredded coconut, mineral-rich maca and dates.
Vanilla Latte Protein Smoothie by Celebrating Sweets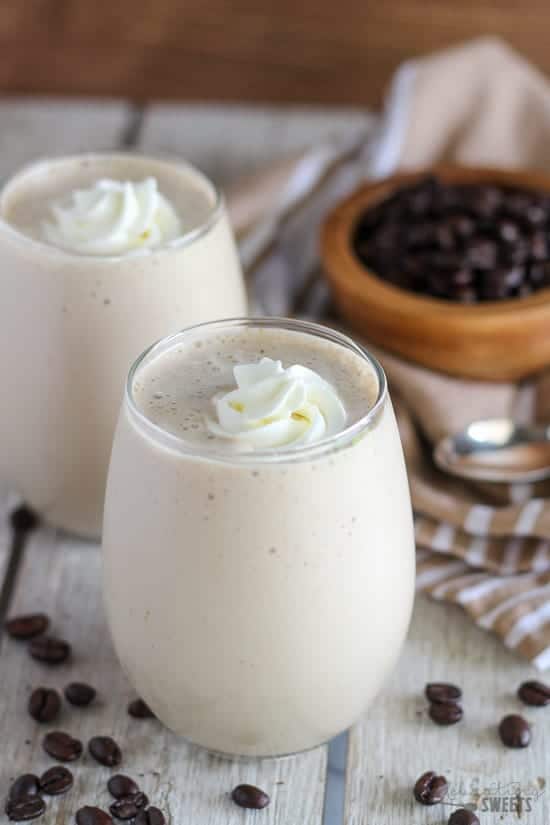 When in doubt, vanilla always works. The recipe brings the rich, sweet flavour with vanilla extract, vanilla almond milk and vanilla protein powder.
Irish Coffee by Green Blender
Green coffee takes the spotlight here, intensified by collard greens and grapes. The result? Smooth, energizing drink unlike any other!